3 negative impact if your managers are not effective in leading remotely
A) Increased frustration for the manager and their employees
B) Decreased trust between the manager and the employees
C) Your top employees quit
INTRODUCTION
Leading remotely is not new. It has been around since the 90s but was not the main operating model for most organization until the Covid-19 pandemic in 2020. As the pandemic situation extends into 2021,
"it is clear that working remotely is here to stay."
While the 'idea' of leading remotely sounds straight forward, it isn't so. Many managers still struggle with this transition. Based on our interactions with manager, many of them struggle with managing performance, develop team spirit, guide their direct reports. This struggle affects the managers.
This workshop has been designed for experienced managers. If you are looking for a program for your new and aspiring managers, checkout our NEW M.A.P.
This workshop, delivered fully virtually seeks to equip your managers with a new mindset relevant to leading remotely, provide them with the and equip
PARTICIPANT'S TESTIMONIAL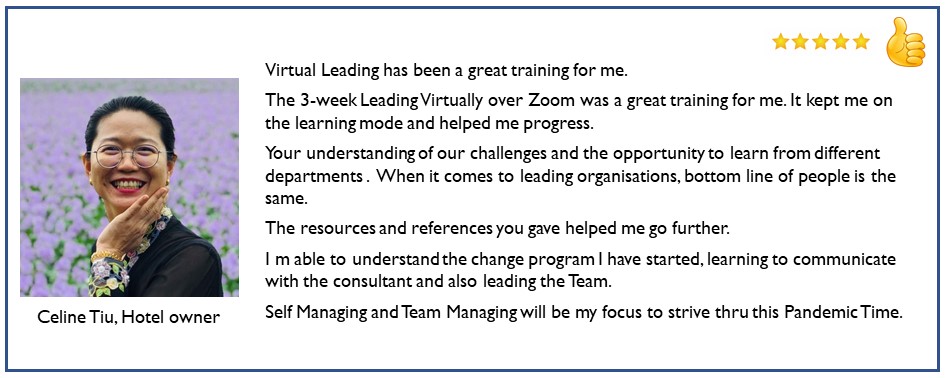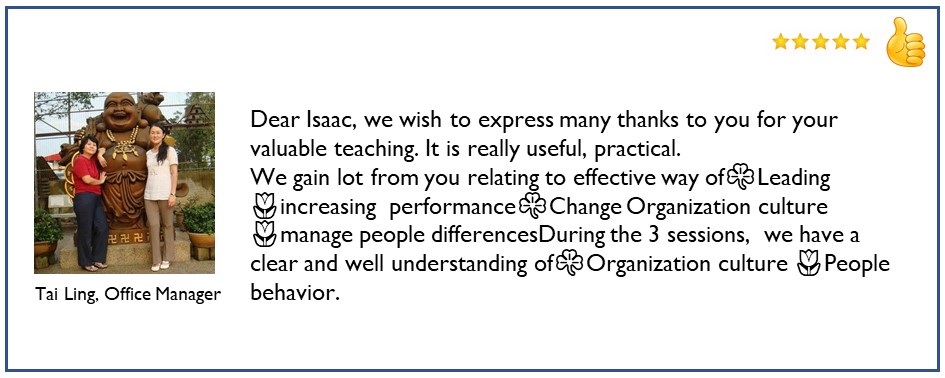 WORKSHOP OBJECTIVE
By the end of the workshop, learners will be able to:
♦ Establish a new way of working with their direct reports and team
♦ Plan for their direct reports' growth & development
♦ Develop their team to be self-directed
♦ Utilize virtual tools for productive virtual meeting
♦ Manage performance challenges in a remote working environment
WORKSHOP CONTENT
Our virtual workshop consist of 6 modules
Session #1 – A new working agreement
– Managing self
– Rewriting the rules of the game
Session #2 – Partner your talent
– Establish a partnership
– Career conversation
Session #3 – Lead the talent
– Giving constructive feedback
– Regular one-on-one
Session #4 – Develop self-directed team
– Characteristic of a self-directed team
– Leader as the facilitator
Session #5 – Virtual meeting for the modern workforce
– Conduct a productive virtual meeting
– Virtual tool for online engagement
Session #6 – Dealing with performance challenges
– Attitude-related issue
– Skill-related issue
WORKSHOP FORMAT
We modularized this workshop is to take advantage of the remote working environment.
The default format for this workshop is 6 modules to be delivered over 3 weeks. Each week consist of 2 half-day modules.
A group chat will be created at the beginning of the workshop where our facilitators will be in constant contact with the learners to clarify any doubt they have as they implement their learning back to their workplace.
Learners will need to complete 3 individual assignments that would help them make the transition.